Meeting the challenges of offshore Wind Turbine Generators
National Ports Corporation Limited has developed a new safe and secure technology that will redefine floating ports around the world "The Oceandock™.
The Oceandock™ is a 60,000m² self-propelled floating port and supply base with over 600 meters of safe and secure berthing space for multiple vessels and with over 101,000² of under deck storage area.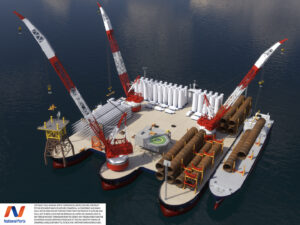 The Oceandock™ is capable of:
Unloading Wind Turbine Generators (WTG) components from feeder vessels
Warehousing the WTG components & spare parts
Assembling entire WTG's including the blades
Safe installing an entire WTG in one single lift
Safe installation each foundation in one single lift
Safe installing an entire Offshore Sub Station (OSS) in one single lift
Safe installing an entire field of WTG's
Potential storage of hydrogen
Key logistical support and maintenance for Windfarms
The Oceandock™ can be delivered with the following onboard equipment and accommodation or as client specifications:
One 6,000 tonnes pedestal crane
Two 2,600 tonnes pedestal cranes
Dynamic Positioning capability
Accommodation over 100 people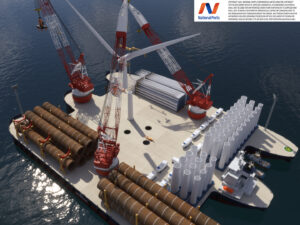 Key Features:
Ballastable
Self-propelled, easily movable to different locations using its own propulsion units
The Oceandock™ principal particulars:
Overall length: 300m
Beam: 200m
Weather deck loading strength 25 tonnes m² or as specified by the client
The Oceandock™ offers a safe, practical, and cost-effective alternative to current systems, such as jack-up vessels that simply can't deliver capacity. There are no alternative solutions for large and mobile (60,000 m² or more) deepwater floating port that can offer integrated facilities.
"National Ports' vision is to provide innovative, competitive, efficient and economically viable offshore port solutions for Wind Turbine Generator OEM's for energy utilities enabling these to expand their abilities to produce and deliver renewable wind power to national grids globally".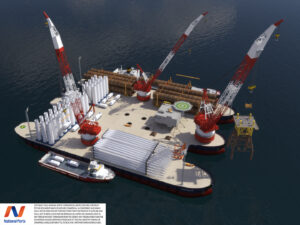 The Oceandock™ supports the further development and delivery of renewable energy word-wide
The Oceandock™ is a large floating "land at sea" that delivers substantial saving on capital costs and maintenance compared with current options and is fully scalable.
The technology has now been developed to create viable wind farms at sea, in any water depth. It is a truly engineered solution that traditional barges cannot provide.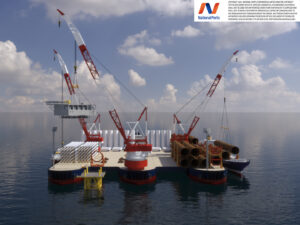 The Advantages:
Large (60,000 m² or more) clear deck floating port and supply base.
Safe installation for wind turbines generators of any size and height.
Minimizes footprint in sensitive coastal areas.
The location of wind farms is not limited to near shore.
It can be positioned and operate in any water depth.
Integrated offshore customs & quarantine inspection services.
Easily accessible by any type and size of feeder vessels.
Reduction of port fees
Capital effective mobile port infrastructure.
Safe and secure docking facilities for multiple vessels.
Reduction of supply chain costs and risks. No need for onshore stockyard.
The construction requires no special shipyard.
Rapidly deployed in any part of the word.
It can operate in any weather condition.
Alternative applications across industries.
Scalable to client requirements.
The economy of scale, an entire field of offshore wind turbines generators can be assembled, stored and installed.
It can be purchased or chartered
One-stop shop solution.
The Oceandock™ is the solution to a challenging problem